The "Steering members" are eight professional zookeeper associations with representatives on the ICZ Steering Committee.
The "Associate members" are professional zookeeper associations, who do not have a representative on the ICZ Steering Committee. This last category was developed in 2017 to cater for the growing number of professional zookeeper associations worldwide.
If you represent a zookeeping association and would be interested in becoming a Associate member, please download more information.
Our current members are:
Steering members
Asociacion Grupo Argentino Cuidadores de Animales Silvestres (GACAS)
The GACAS was created with the main objective to open up communication with all the people involved in the care and management of the Argentine Republic?s wildlife. This includes staff belonging to zoological parks, aquariums, rehabilitation centers of fauna, reserves and natural parks. The mission of the Argentine Group of Caregivers is to promote excellence in the maintenance and welfare of the animals, to foster effective communication for animal care, to provide the support that conservation projects deserve, and to promote the preservation of our natural resources and the animal welfare. GACAS is currently organizing courses, conferences and events on topics related to the care and management of wildlife under human care and conservation to increase the professionalism of its keepers and caregivers.
Asociación Ibérica de Cuidadores de Animales Salvajes (AICAS)
Founded in 2000, the Iberian Association of Zookeepers (AICAS) is constituted by Spanish and Portuguese Associates with the main goals of promoting the education, the professionalization and the exchange and dissemination of information in relation to the care and management of wild animals in captivity.
To accomplish these objectives, we have a triannual magazine, job and volunteer offers in our keeper forum, we are working in an enrichment database and we organize courses and a congress every two years.
AICAS is also committed with the rehabilitation and rescue centers, trying to collaborate with them with several conservation actions and spreading their work.
Our goal is also to encourage the preservation of biodiversity through the involvement of the workforce of zoos, aquariums, centers for rehabilitation and reintroduction of wildlife, nature reserves, parks and every other person working in the care and management of exotic wildlife or with a direct or indirect link with wildlife.
Being one of the founders of ICZ, these last years, AICAS turns into a reference also for Latin-American´s countries.
Association Francophone de Soigneurs Animaliers (AFSA)
In 1999, three keepers from Doue la fontaine zoo, Pont scorff zoo and Branfere´s park begin to talk about the possibility to create an association of keepers like in other countries. The need to create AFSA was born due to the fact in France there is no exchange between keepers regarding zookeeping and that the job of keeper wasn´t professionnaly recognized. AFSA is an association of keepers only directed by keepers, it is adressed to all French keepers as well as staffs of zoos, aquariums, aviaries,etc. …
The first meeting took place in November 1999 with the presence of some other associations of keepers´s representatives. In order to achieve the goals of AFSA, the association have printed journals called ´AFSA infos´ in order to inform members about all things which happened in French zoos as well as zoos around the globe.
Association of British and Irish Wild Animal Keepers (ABWAK)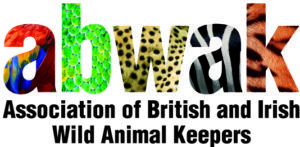 The Association of British Wild Animal Keepers (ABWAK), is a non-profit organisation which has set its following goals and objectives: To improve cooperation among animal keepers, both nationally and internationally. To provide, encourage and organise facilities for the meeting of keepers of wild animals. To improve, through education, the professional competence of all involved with wild animal husbandry. To support the conservation of wildlife through out the world.
Associazione Italiana Guardiani di Zoo (AIGZOO)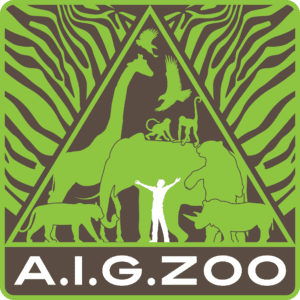 The Italian Association of Zookeepers was established in 2016 by a group of zookeepers from different italian zoological institutions. Its aim is to promote the professionalism of zookeeping in Italy through conferences, courses and workshops, to facilitate communication and collaboration between zookeepers working in various types of institutions, and to support the conservation of wildlife in natural areas through financing of in-situ projects.
Today the Association has a large number of members, comprising zookeepers, aquarists, researchers and graduate students, and it collaborates with different italian zoological institutions, universities and professionals in order to pursue its aforementioned goals.
Various events are sponsored every year, offering, with remarkable discounts, professional development opportunities for members ranging from workshops on animal welfare, to training zoo animals, to conferences on scientific research, all in order to elevate the welfare of zoo animals and the performance level of the entire profession.
Australasian Society of Zookeeping (ASZK)
The ASZK is a professional zookeeper organisation which seeks to promote the exchange of information on all aspects of wild animal husbandry, and in so doing provide a platform for ongoing professional development for the broad zoological community.
Berufsverband der Zootierpfleger (BdZ)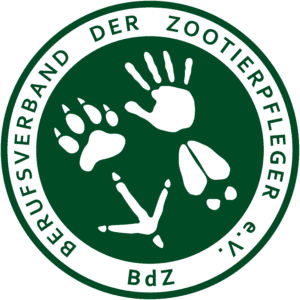 The Berufsverband der Zootierpfleger e.V. (BdZ) is the German zookeeper association. BdZ was founded in 1993 by more than 100 zookeepers from across Germany. More than 20 years later, BdZ membership has reached 1600 professional animal keepers from the German-speaking countries of Europe. The goal of BdZ is to support the country's standard three-year professional zookeeper qualification program, to provide continuing education opportunities, to facilitate the exchange of information regarding the health and care of animals kept in captivity, and to support conservation projects. To fulfill these goals, BdZ hosts an annual member meeting and several zookeeper conferences and workshops each year, and advocates for zookeepers in a variety of other ways. BdZ also publishes three editions of its professional zookeeper journal, APZ (Arbeitsplatz Zoo) each year, along with new special editions each year that focus on a single topic. Finally, BdZ also partners with several other national and international organizations whose goal it is to support the professionalism of zookeepers, and has been a member of ICZ since its inception.
Stichting De Harpij (Harpij)
The Harpy Foundation is an organization for Dutch and Belgian zoo employees. It does not have a membership, but does publish a quarterly journal, The Harpy, that is available by subscription. The foundation´s chief goal is ´the improvement of care and well-being of non-domestic animals in the broadest sense of the word´.
The Harpy´s history began in 1980 when a group of zookeepers from the former Wassenaar Zoo took the initiative to distribute a newsletter written by zookeepers for zookeepers. They hoped via this publication to broaden their knowledge by exchanging experiences with keepers in other zoos. The first years were quite difficult, and it was sometimes questionable whether there was a reason to continue. But by 1985 the interest in the publication had grown, eventually resulting in the official establishment of the Harpy Foundation on 18 May 1988.
Much has changed in the years since then. Thanks to the support from the directorship of the participating zoos, and the efforts of approximately 30 zoo personnel, the Harpy Foundation has grown into an organization that is here to stay in the zoo world. The primary target group is the personnel of zoos in the Netherlands and Belgium that are members of EAZA.
Associate members
American Association of Zookeepers (AAZK)
The American Association of Zoo Keepers, Inc. began in 1967 in San Diego, CA with the purpose of promoting professionalism in zoo keeping through education of zoological staff members in the most modern and current techniques of captive exotic animal care. AAZK´s mission is to provide a resource and a forum of continuing education for the animal care professional and to support zoo and aquarium personnel in their roles as animal care givers, scientific researchers, public educators and conservationists; to promote zoos and aquariums as cultural establishments dedicated to the enrichment of human and natural resources; to foster the exchange of research materials, enrichment options and husbandry information through publications and conferences which will lead to a greater understanding of the needs and requirements of all animals.
Animal Keepers and Trainers Association of the Philippines (AKTAP)
The Animal Keepers and Trainers Association of the Philippines (AKTAP), formerly the Zookepers´ Association of the Philippines (ZAP), is a non-profit organization that aims to improve the welfare of all animals in wild animal institutions in the Philippines by professionalizing zoo keeping in the country.
ZooCentral – Danish Association of Zookeepers (ZooCentral)
"ZooCentral – Danish Association of Zookeepers" was founded in 2006 by zookeeper trainees from both zoos, labs and stud farms from around the country. Originally under the tag line "The place where zookeepers meet", the organization started as an information network based on a website and later a Facebook forum providing information regarding the zookeeper training programme, the schools, job- and networking opportunities and more.
As information became more readily available with social media, the organization started focusing more on events with three annual events making up the bulk of activities: The Zookeepers' Party (since 2009), the ZOOlympics (since 2015) and the Danish Zookeepers' Conference (since 2017). At the Zookeeper's Party 200 zookeepers meet up while drinking, dancing and raising funds for conservation while the ZOOlympics provide an option for garden-party style fun and games. The Danish Zookeepers' Conference has hosted 80-100 people a year for a day of presentations, tours and workshops in collaboration with a host in the form of a zoological institution.
Moving from consisting of a core working group of about 20 members, in 2019 ZooCentral restructured to become a zookeeper association for paying members and also became a proud member of the ICZ the same year.